Original
Hydraulic pumps supply fluid to the components in the system. Pressure in the system develops in reaction to the load. Hence, a pump rated for 5,000 psi is capable of maintaining flow against a load of 5,000 psi.
Pumps have a power density about ten times greater than an electric motor (by volume). They are powered by an electric motor or an engine, connected through gears, belts, or a flexible elastomeric coupling to reduce vibration.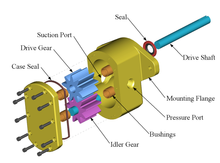 An exploded view of an external gear pump.
Common types of hydraulic pumps to hydraulic machinery applications are:
Piston pumps are more expensive than gear or vane pumps, but provide longer life operating at higher pressure, with difficult fluids and longer continuous duty cycles. Piston pumps make up one half of a hydrostatic transmission.
Image source:By Duk - Own work, CC BY-SA 3.0, https://commons.wikimedia.org/w/index.php?curid=41097
Traduzione
Le pompe idrauliche forniscono fluido ai componenti del sistema. La pressione nel sistema si sviluppa in reazione al carico. Quindi, una pompa per 5.000 psi nominali è in grado di mantenere il flusso contro un carico di 5.000 psi.
Le pompe hanno una densità di potenza circa dieci volte maggiore di un motore elettrico (in volume). Sono alimentate da un motore elettrico o di altro tipo, collegato tramite ingranaggi, cinghie o un accoppiamento elastomerico flessibile per ridurre le vibrazioni.
Vista esplosa di una pompa esterna a ingranaggi.
I tipi più comuni di pompe idrauliche utilizzate in macchinari idraulici sono:
Le pompe a pistoni sono più costose delle pompe a ingranaggi o a palette, ma garantiscono una maggiore durata operativa a pressioni più elevate, con fluidi difficili e cicli di lavoro continui più lunghi. Le pompe a pistone costituiscono la metà di un trasmissione idrostatica.
Immagine By Duk - Own work, CC BY-SA 3.0, https://commons.wikimedia.org/w/index.php?curid=41097